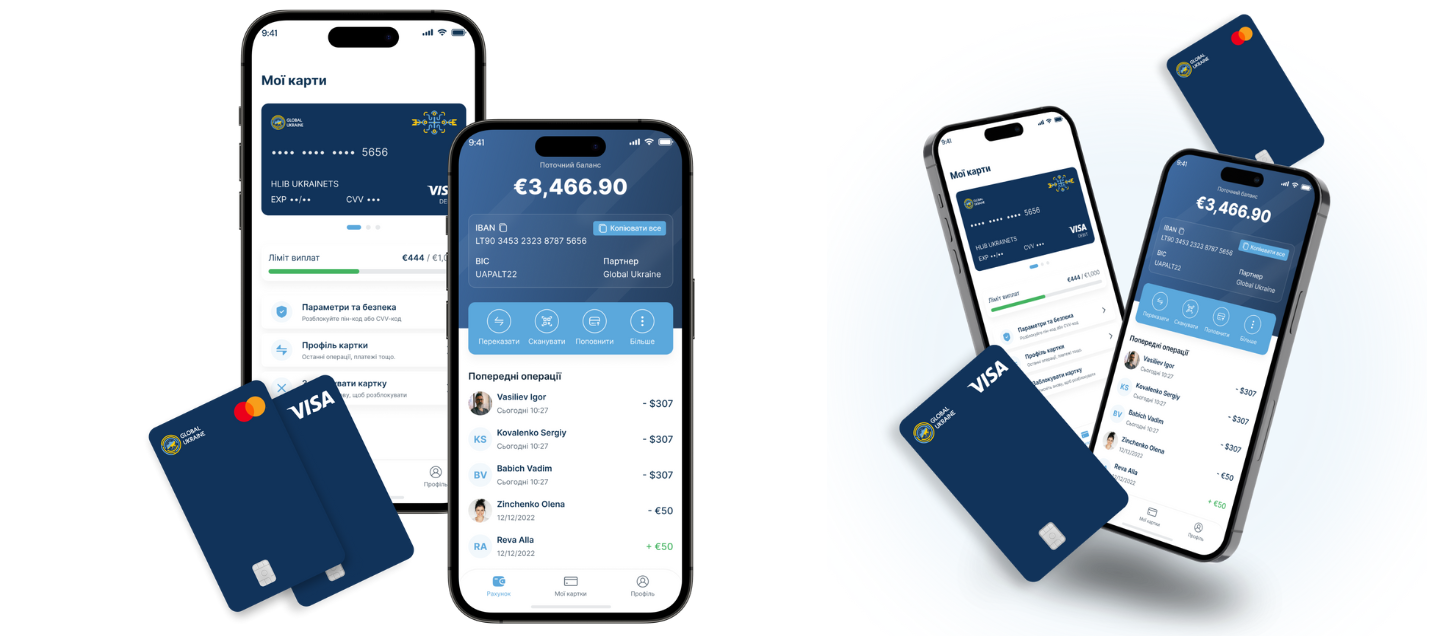 For Ukrainian entrepreneurs, expats, refugees and everyone living in Europe, the Global Ukraine Foundation created the Global Ukraine neobank with the Global Ukraine Banking App. After registering in the application and passing the verification, you receive an IBAN (account in euro currency) in a European bank, a virtual card in your smartphone and a physical (plastic) card coded to win with its unique design.
The registration process is simple and fast. The main conditions are to have Ukrainian documents and an address in Europe (permanent or temporary). It is enough to perform three simple steps: enter data, photograph documents and take a selfie. The verification process takes from a few minutes to 48 hours - and you have an account with the European Bank.
Global Ukraine Accounts and Cards are issued by Paynovate pursuant to a license by MasterCard and managed by LinkCy PSP UAB (within the agreement with Global Business Hub France SAS, company registration number 888 935 202, VAT FR 41 888 935 202). Paynovate is authorized by the Bank of Belgium under the Law on Electronic Money and Electronic Money Institutions (ref 0506763929) for the issuing of electronic money and provision of the related payment services. LinkCy PSP UAB is an Agent of Paynovate and registered in Lithuania under number : 305756549. This is a unique financial service that combines the security of European banks and the convenience of Ukrainian services. It's an affordable way to manage your finances from the comfort of your own home.
The application offers several options for tariff plans, and you can choose the one that suits you best among them.
A 15-day free trial is currently available for new customers. You just register, get a card and use it, because you have 2 weeks to decide if this app is right for you.
Why should you choose the Global Ukraine Card banking application for working with trading platforms?
The Global Ukraine card gives the opportunity to work with European customers directly in euro currency. Due to this, the problems of conversion, exchange rates, additional costs and restrictions from national banks disappear.

In addition, several cards (physical or virtual) can be opened for one IBAN. This option is very cool for those who work on different trading platforms and thus managing finances becomes much more convenient. What's more, transfers between Global Ukraine accounts and cards are free and unlimited, and this is an additional cost savings!

The fee for maintaining an account in a neobank is significantly more economical than in classic European banks. And in addition to this - client support and an application with a convenient interface in the Ukrainian language. This means that you will not be left alone with difficulties, you will be helped in the shortest possible time and in your native language.

At the same time, neobank offers everything that a classic bank does - the history of transactions and statements from accounts, receiving invoices, depositing funds in an account, unlike payment systems or services for transferring funds.
Now in the Global Ukraine Banking App, you can open up to 5 cards, give one of them to those whom you regularly help with finances and determine the monthly limit you need for it, for example - in this way you can help your loved ones, saving time and unnecessary fees. If every Ukrainian has a Global Ukraine Banking App, the global Ukrainian financial ecosystem will work with absolutely free transfers, which will allow each one of you to generate additional resources for humanitarian needs in Ukraine.

You can download the application in the App Store and Google Play marketplaces, and with a free trial period, which allows you to quickly use all the advantages of the Global Ukraine card in order to make sure that it is the best financial service for Ukrainians in Europe.
Download: